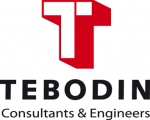 Tebodin
Laan van Nieuw Oost-Indië 25, The Hague, Netherlands
Phone: +31 (0)70 348 03 59.
Tebodin is an international operating advice and engineering company. Together with over more than 4.300 colleagues from 23 countries you will make a contribution to large and small, simple and multidisciplinary projects.

At every Tebodin office you will see that everyone works closely together. Your colleagues take their profession seriously, but there is also room for laughter. Have good ideas? Good chance that you can execute them at Tebodin at once. Besides receiving enough playroom to develop own initiatives, you also receive multiple chances to follow your own career path. Tebodin contains all engineering and consultancy disciplines. When you decide to work for Tebodin you will get ample opportunity to study the various disciplines, markets and companies.

Tebodin is part of Bilfinger SE, a leading engineering and services group with over 60.000 employees worldwide.