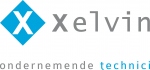 Xelvin Zuid B.V.
Steupelstraat 40, Rotterdam, 3065 JE Netherlands
Phone: 0031 10 7009710
Xelvin is a specialized international recruitment agency, with a strong focus on BSc and MSc level. We operate within the disciplines of Mechanical and Electronic Engineering, Research and Development, Industrial Automation and ICT. Our clients can be found in various environment, such as Hightech industry, Automotive, Machine Building, and Product Development.

Xelvin originates from the northern part of the Netherlands, where it has been founded in 2006. Because of a rapid and continuously growth since, multiple branches have been opened. Currently, Xelvin has 16 offices across the country and is being represented by a team of both technically and commercially skilled consultants.