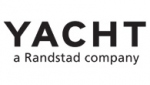 Yacht
Larixplein 7, Eindhoven, Netherlands
Phone: +31(0)40 2594100
Working as a high tech professional within Yacht means you will work on interesting and challenging long term projects for our clients in the Dutch "Brainport" Eindhoven region. This region is considered to be the smartest region in the world! We cooperate with high tech companies that work on the cutting edge of technology. To give you an example of our portfolio: ASML, Philips Healthcare, Philips Lighting, Philips Research, TNO, FEI company, Anteryon and many others.

Yacht is a contractor for highly educated professionals (BSc, MSc, or PhD) who'll work on site and innovate together with our customers to find smart solutions. Being a daughter of the world wide Randstad group we have an extensive network of clients and professionals.
Are you willing to work in the smartest region of the world on the cutting edge of science? If so, Yacht is the right company for you!

Are you interested in working for Yacht?
If you are interested to know more about the possibilities Yacht has to offer, please send us your CV. We will asses whether your CV fits our profile, afterwards you will be contacted by one of our professional recruiters and/or account managers.