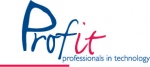 Profit Consulting BV
High Tech Campus 69, Eindhoven, 5656 AG Netherlands
Phone: +31 40 800 99
We are one of the leading Dutch service providers in the field of technical & embedded software, quality management and testing. We are all about technology. Every day our engineers work on innovative technical projects for a wide range of clients. It involves software engineering, engineering design, software and system architecture, quality management, testing, project management and consultancy.

Our engineers are the core of our business. Profit not only employs engineers with adequate technical knowledge, we also expect them to take responsibility and initiative. They are capable of acting as independent team players and understand what it means to be forward-looking. Their in-depth knowledge of client technologies helps them constantly improve their business.

But it is not just our employees that standout, clients appreciate Profit as well because of our agility, responsiveness and services.