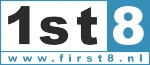 First8 BV
Toernooiveld 220, Nijmegen, 6525EC Netherlands
Phone: 024-3483570
Java Ontwikkelaar Medior/Senior
Werkmaatschappij
First8

Locatie
Landelijk

Functieomschrijving
Doe wat je leuk vindt en waar je goed in bent! Bij First8 is veel mogelijk, we gebruiken de nieuwste technieken in diverse spannende en uitdagende projecten. Hierbij maken we gebruik van open standaarden en open source. Naast projecten verzorgen we voor diverse klanten ook het volledige beheer en onderhoud op hun applicaties. Je werkt bij ons op kantoor (Utrecht of Nijmegen) of op locatie bij onze klanten.

Als Java Ontwikkelaar heb je ruime ervaring met het ontwikkelen in Java en Internet gerelateerde applicaties en het werken met ingewikkelde software landschappen. Je schat met de klant de toekomst van een product in. Je houdt overzicht op het project met alle technische randvoorwaarden eromheen.

Functie-eisen
Minimaal een HBO opleiding
Minimaal 5 jaar werkervaring in een objectgeoriënteerde programmeertaal
Kennis van Java, XML, HTML, relationele databases, basiskennis Linux/FreeBSD en Windows
Bij voorkeur kennis van Struts, MMBAse, J2EE, XSLT, SOAP, CSS, Eclipse, Design patterns, SSL /
Encryptie

Arbeidsvoorwaarden
Werken bij First8 biedt de mogelijkheid tot veelzijdige ontwikkeling. Doorgroeimogelijkheden zijn er genoeg, zowel tijdens als tussen de opdrachten. Daarnaast is er veel ruimte voor persoonlijke ontwikkeling en opleiding-op-maat. Onze secundaire arbeidsvoorwaarden zijn uitstekend, onder andere bieden we medewerkers een aantrekkelijk employee benefits-pakket aan op het gebied van pensioenen en verzekeringen. Uiteraard bieden we een marktconform salaris.

Bedrijfsprofiel
First8 ontwikkelt maatwerksoftware en heeft ervoor gekozen om hierbij gebruik te maken van de Java technologie. First8 is business partner van NLJUG en wij zijn een jonge en platte organisatie en hebben ons gespecialiseerd in het ontwikkelen van JAVA, XML en XSLT gebaseerde (web-) oplossingen waarbij persoonlijke aandacht hoog in het vaandel staat. First8 heeft uitgebreide ervaring in het bouwen en het beheer van bedrijfskritische systemen, in het bijzonder op het gebied van financiële transacties en privacygevoelige informatie voor zowel klanten in de financiële sector en industrie als in de media en overheid.


Solliciteren
Voor meer informatie over deze vacature kun je contact opnemen met Linde Schlahmilch via telefoonnummer 024 - 348 35 70. Jouw CV en motivatie kun je sturen naar first8@conclusion.nl.