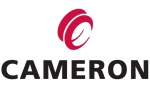 Cameron GmbH
Lückenweg 1, Celle, 29227 Germany
Phone: +49 5141 806 372
The exploration of oil and gas is inseparably connected with the name Cameron. As a leading provider of flow equipment products, systems and services to worldwide oil, gas and process industries, Cameron has been setting the standards in all regions of the world for almost nine decades.

Founded in 1920, the company today has a staff of approximately 18,000 employees working at more than 300 locations world- wide to supply products and solutions to all established oil, gas and process industry business. Cameron focuses on products used to control, direct, adjust, process, measure and compress pressure and flows for surface and subsea applications.

Cameron has been firmly rooted in Northern Germany for more than 45 years. In the Celle region, we have found a basis that has seen continuous growth. The formerly small facility originally designed for spare parts storage and technical service has grown to become a state-of-the-art development and production site. Our extensive know-how for subsea applications has been bundled in the "Centre of Excellence for Subsea Technology". Several hundred highly specialized experts are focusing on innovative process and control solutions which help to secure the supply of energy while conserving precious resources.