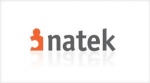 NATEK SLOVAKIA, s.r.o.
Grosslingova 4, Bratislava, 81109 Slovakia
Phone: +421 2 54131340
NATEK is a leading provider of IT Outsourcing and Consulting Services in CEE (Central and Eastern Europe). Established in 2004 in Czech Republic, NATEK has created a global organization in Central Europe in order to develop long-term partnerships with prestigious international companies by providing complete range of services as professional services, Near shoring and platform service delivery.

With currently more than 350 employees, NATEK delivers service in following countries: Bulgaria, Czech Republic, Estonia, Poland, Romania and Slovakia and has representative offices in Georgia and Ukraine. With the objective to staff more than 200 IT specialists in the next 12 months, NATEK thus becomes one of the most sought-after companies specialized in IT outsourcing in Central and Eastern Europe.