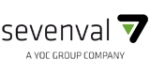 Sevenval GmbH
YOC Gruppe, Karl-Liebknecht-Straße, Berlin, 10178 Germany
Phone: +49 30 726162-492
For more than 12 years, Sevenval has been the leading software and solution specialist for mobile, multi-channel web and mobile marketing solutions.

We help companies turn new business opportunities offered by mobile into success stories by applying our mobile market experts' distinctive knowledge and our continuously-enhanced, first-class software solution, with a track record of over a decade.

As a solutions provider, we supply our customers with all relevant services for a sustainable mobile solution. Our company's goal is to provide the best software for mobile solutions worldwide and we work passionately towards it.

Since 1999, Fortune Global 500 companies have trusted in Sevenval's products and solutions, as well as the company's technological expertise and innovative power.