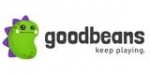 Goodbeans GmbH
Winsstrasse 62/63, Berlin, 10405 Germany
Phone: +49 (0) 30 80 20 87
Children and their families are our top priority. goodbeans, founded in 2007 under the name Young Internet, is Europe's leading provider of safe, family-friendly, fun and diverse apps and online worlds.

Our game and learning products function as the first point of contact with the digital world for children up until 12 years of age. A big responsibility and a great chance to help shape this exciting world.

goodbeans games have millions of members from all over the world.