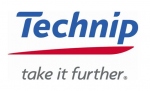 Technip
Boerhaavelaan 31, Zoetermeer, Netherlands
Phone: +31 (0)79 3293 600
Technip is a world leader in project management, engineering and construction for the energy industry. We have a state-of-the-art fleet of subsea construction and installation vessels, industrial assets on all continents and a revenue of $6.8 billion. Technip employs a workforce of 36,500 people in 48 countries around the world.

We attract and retain some of the best talent in the industry and are looking for motivated, enthusiastic and dynamic people to join our growing team of experienced offshore construction and ROV personnel.

A career with Technip gives you the opportunity to play a part in delivering subsea excellence where world-class professionals are working on increasingly challenging projects. As well as having a competitive benefits package, we are committed to ensuring that our people are equipped with the right knowledge and training, and have access to continuous career development and personal advancement opportunities to maximize their potential.

Our fleet ranges from specialist deepwater pipelay and diving support vessels to construction and trenching vessels, capable of delivering the entire suite of subsea operations. Our equipment assets include: portable pipelay systems, winches, Remotely Operated Vehicles (ROVs), trenching spreads and hyperbaric welding spreads, which work on projects across the globe.