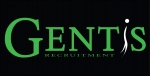 Gentis Recruitment
Hertoginnestraat 11-13, Brussels, 1150 Belgium
Phone: +32 2 7375160
Gentis is a Belgian recruitment company headquartered in Brussels and providing permanent staffing as well as project sourcing solutions worldwide in multiple sectors. Each of our sectors is serviced by a dedicated team of specialist recruiters, with accumulated experience of decades in recruitment.
Thanks to close collaboration with the major players in each industry and our high profile among experienced professionals in our target sectors, Gentis has grown rapidly and is now capable of meeting the multiple needs in IT, Engineering, as well as the Oil & Gas and Pharmaceutical Sectors.

Whether you are seeking a new opportunity or whether you need to recruit the best person to fill a need within your company, at Gentis our daily practice is to carry out all activities to provide you the highest quality solution in the fastest timescale.
To assure this successful solution for our clients and candidates, we deploy a wide range of candidate-acquisition tools : headhunting, job boards, databases - including our own -, social network search tools, as well as dedicated researchers specialized by sector and profession.

In addition, through the many years of practice of our recruiters and headhunters, Gentis has developed a constantly expanding worldwide network of sector professionals and client companies which we use to match requirements of our candidates and clients.