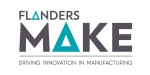 Flanders Make
Celestijnenlaan, Leuven, 3001 Belgium
Phone: 0032498919441
Flanders Make is the strategic research centre for the manufacturing industry. It combines the strengths of a team of application and system experts with the technological expertise of a range university labs that are an integral part of the Flanders Make network. The mission of the centre is to strengthen the long-term international competitiveness of the Flemish manufacturing industry by performing industry-driven, pre-competitive, excellent research in the technological domains of mechatronics, product development methods and advanced manufacturing technologies.

This research will result in applications for machines, vehicles, vehicle components and high-tech production systems at the participating companies.

To achieve this mission, Flanders Make conducts industry-driven joint projects and contract research assignments in the following research programs: Clean Energy-efficient Motion Systems, Smart Monitoring Systems, Autonomous Systems, Intelligent Product Design Methods, Design & Manufacturing of Smart and Lightweight Structures, Additive Manufacturing for Serial Production, Manufacturing for High Precision Components, Agile & Human-centered Production & Robotics Systems.